AMOG stands for "Australian Marine & Offshore Group," which describes our founding areas of engineering expertise and the organisation's understandably Australian focus when it first started trading.
Formed in October 1991, AMOG's 5 founding Principals were; Prof. Andrew Potts, Prof. John Hinwood, Prof. Paul Grundy, Prof. Rob Melchers, and Mr. Malcolm Rowe. The founding principle of AMOG was to provide leading engineering solutions, predominantly in the marine and offshore sectors.
Since then, the company has extended its service offerings to include: infrastructure support (both on and offshore); mining; transport (rail and tunnel); system/process safety engineering; defence; renewable energy; and engineering software.
In parallel, over the last 10 years in particular, the organisation has grown geographically, opening offices in Perth, Australia (1997), Houston, Texas (2006), Bogotá, Colombia (2013), and establishing a presence London, UK, and Kuala Lumpur, Malaysia, in the last few years.
In 2011, to celebrate the company's 20th year, AMOG undertook a major rebranding exercise to better reflect the company's global network and diverse services, building on the success of the AMOG brand.
AMOG continues to be a leading organisation, committed to investing in its people, and in research and development, so that we may continue to provide industry leading engineering services to our clients.
In 2016, AMOG celebrated 25 years in business.
If you would like to read more about AMOG and the company's history, please click here to read an address by Professor Potts.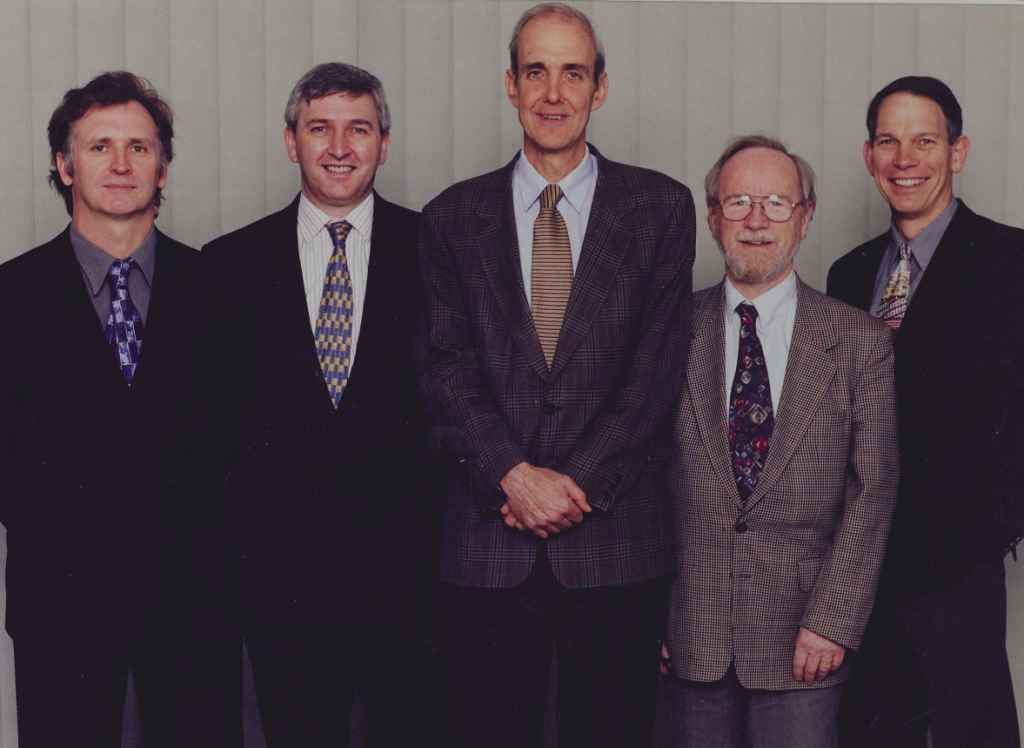 AMOG Board 1995-2001 (from L to R) Dr Paul Sincock, Prof Andrew Potts, Prof Jon Hinwood, Prof Paul Grundy and Prof Robert Melchers