At Euronaval 2018, AMOG entered into a Memorandum of Understanding (MoU) with French company, the ECA Group. Signed in the presence of the Honorable David Johnston from the Australian Export Defence Office, the MoU is a commitment by both parties to work together on a deperming station program.
In the Defence environment, a Deperming System is used to reduce the risk of magnetic sensor detection of steel hull vessels, both surface ships and submarines. Deperming cancels magnetisation by passing an electric current through coils to alter the magnetic signature of the vessel and helps protect vessels by acting as a form of camouflage from electro-magnetic detection, and as a precaution against magnetic mines. The proposed AMOG-ECA solution utilises a subsea system, using coils laid on the sea bed, rather than the traditional wrapping process. Utilising this system, the entire deperming operation can be reduced to as little as four hours.
The ECA Group also confirmed their partnership with Thycon for the installation of electrical equipment for Australia's Future Submarine Project, Thycon will also supply components for the AMOG-ECA deperming system.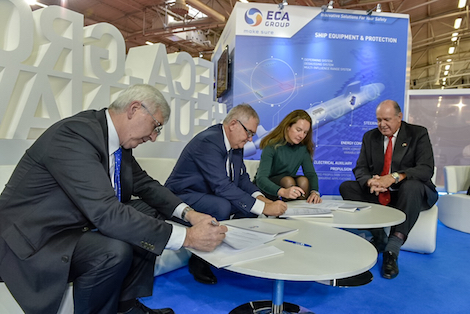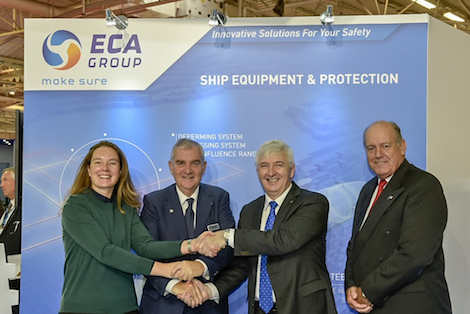 Left Image: AMOG CEO Professor Andrew Potts, The ECA Group's Philippe Novelli, Thycon's Pia Nanut, and the Honorable David Johnston from the Australian Export Defence Office.
The ECA Group is renowned for its expertise in robotics, automated systems, simulation and industrial processes. Ever since 1936 it has been developing complete innovative technological solutions to perform complex missions in hostile or restrictive environments. Its products are used by a demanding international clientèle requiring the highest levels of safety and efficiency, mainly in the sectors of defence, maritime, aerospace, simulation, energy and industrial equipment.
The Group has always been at the forefront of innovation ever since it was founded in 1936. It has built up the trust of its customers around the world thanks to the reliability and performance of its solutions, at minimum cost. Right now, our R&T teams are imagining robotics systems for the year 2020, to meet our customers' needs even more effectively.
"Two of our strongest commitments are to innovate to find efficient and reliable solutions, and to support our customers when they operate our technical solutions" underlines Raphaël Gorgé, Chairman of the ECA Group.
This commitment to reliability and efficiency is put into operation by all the men and women of the ECA Group. It is summed up by the group's new slogan: Make Sure.
Thycon is Australia's leading manufacturer of power quality and conversion solutions for the industrial, resource and commercial sectors.
Since the company's foundation in 1968, their product line has grown steadily in response to technical advances and market needs. Today, it encompasses variable speed drives, voltage and current regulated static power supplies, airfield lighting regulators, cyclo-converters, line conditioners, high-current rectifiers, inverters, uninterruptible power supplies, static frequency converters, active voltage regulators, active power factor regulators, active harmonic regulators and more.