AMOG, Thales Australia, and the University of Tasmania, Australian Maritime College yesterday signed a Memorandum Of Understanding (MOU) to investigate the establishment of the facility that will make Tasmania the home of a state-of-the-art trials and tests for submarine and surface ship sonar systems.
The Minister for Defence Industry, the Hon Christopher Pyne MP, witnessed today's signing.
"Sonar systems are the eyes and ears of our submarines and ships and are key to giving them the edge they need," Minister Pyne said.
"The Collins class sonar upgrade program is boosting defence industry confidence around Australia."
"Contributions to Australia's military capability from our defence industry come from all around the country and are not confined to our big cities."
"Congratulations to everyone involved in delivering this great opportunity for the region."
Thales Australia advises that the use of Tasmania's deep, cold and acoustically quiet lakes for the proposed acoustic testing capability could enable sonar systems, including those currently delivered by Thales to be tested to new levels of accuracy.
Click here for the full announcement from Minister Pyne.
More information can also be found on the University of Tasmania AMC website.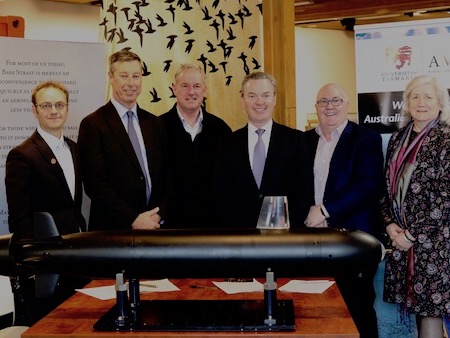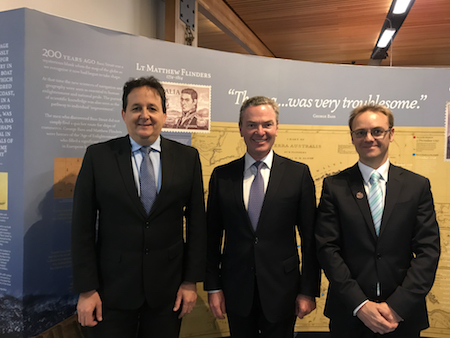 (Photo on left): Ben Clark (AMOG Consulting), Gary Dawson (Thales Australia), Liberal Senator Richard Colbeck, The Hon Christopher Pyne MP, Brett Whiteley (Liberal candidate for Braddon, University of Tasmania Deputy Vice-Chancellor (Research) Professor Brigid Heywood.
(Photo on right): AMOG's Dr Hayden Marcollo and Ben Clark, with The Hon Christopher Pyne MP.